Innovation also means reorganizing our operations to the benefit of our customers
In order to match our customers' requirements as closely as possible, we have reorganized our operations and now offer an even broader product spectrum from a single source.

Our portfolio now also includes customized special gearboxes that offer exceptional functionality under all operating conditions. We also now offer complete motor/gearbox units which are characterized by maximum precision, dynamics, robustness and reliability. We offer high-precision gearing for all manner of applications.

We are especially proud of our Galaxie® drive system. It achieves previously unattainable performance levels. This opens up a whole host of new possibilities in high performance engineering.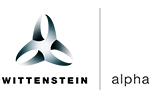 WITTENSTEIN alpha GmbH
Walter-Wittenstein-Strasse 1
97999 Igersheim (Germany)
+49 7931 493-0
+49 7931 493-200
New in the product portfolio