premo® SP Line rotary servo actuators
The entry level class
Especially suitable for positioning tasks
Short cycle times
Special benefits with moving axes: the low weight and short overall length
Mechanical interface with output shaft
Ideal for connecting couplings, toothed belt pulleys and pinions
In addition to the smooth shaft version, key and splined shaft versions are also available
Electric interface with resolver as standard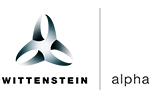 WITTENSTEIN alpha GmbH
Walter-Wittenstein-Str. 1
97999 Igersheim (Germany)
+49 7931 493-0
+49 7931 493-200
The low moment of inertia and high power density mean the power which is supplied is utilized more efficiently
The short installation length of the servo actuators enables a more compact design of your machine
The increased rigidity and dynamics generate higher output in your machine
The wide selection of motor encoders enables connectivity to many different servo drives.
Our know-how – your benefit
premo® SP Line – the entry level class.
Ideal solution for positioning tasks in handling applications thanks to the high power-to-weight ratio and excellent dynamics

Simplified machine design
Flexible gearbox interface with smooth, key or splined shaft
Reduced wiring due to single-cable technology with digital encoders
Increased productivity and higher OEE
Less prone to fouling due to smooth surfaces and conical cover without screws
Bayonet-coupling connector for fast installation
Robust bearing with long service life
Safety
Digital encoders with SIL2
Brake with enhanced holding torque
WITTENSTEIN alpha in all axes
WITTENSTEIN alpha develops complete, single-supplier solutions for driving any axis. They can be used in virtually any application – from high-precision axes in manufacturing systems to packaging machinery where maximum productivity is called for.
The name WITTENSTEIN alpha is synonymous with premium quality and reliability, high precision and synchronization accuracy, the highest power density, a long lifetime and very simple motor mounting.