NP planetary gearbox
Individual Talents
The alpha Value Line is universally suitable and represents the most economical solution whatever the requirements. For example, the NP planetary gearbox is ideal for all mid-range applications requiring an output shaft.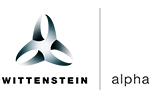 WITTENSTEIN alpha GmbH
Walter-Wittenstein-Str. 1
97999 Igersheim (Germany)
+49 7931 493-0
+49 7931 493-200

Two-piece clamping hub system of the high-end segment
Labeled with the tightening torques for secure, fast motor mounting
Guarantees best synchronization properties
Output shape
Available with smooth shaft
High ratio variation
Large number of ratios (i=3 to i=100)
Available in the common binary ratios
Differentiated power density
The HIGH TORQUE version permits an even higher torque density for sizes 015 – 035
WITTENSTEIN alpha in all axes
Low backlash planetary gearboxes
WITTENSTEIN alpha develops complete, single-supplier solutions for any driving axis. They can be used in virtually any application – from high-precision axes in manufacturing systems to packaging machinery where maximum productivity is required.
The name WITTENSTEIN alpha is a byword for premium quality and reliability, high precision and synchronization accuracy, highest power density, a long lifetime and very simple motor mounting.