HG+ hypoid gearbox
Precise hollow shaft solution
The successor to our versatile hypoid gearbox with hollow shaft on one / both sides. With the HG+, low torsional backlash and high torsional rigidity assure maximum positioning accuracy of your drives and precision of your machines – even during highly dynamic operation.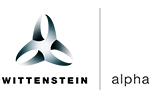 WITTENSTEIN alpha GmbH
Walter-Wittenstein-Str. 1
97999 Igersheim (Germany)
+49 7931 493-0
+49 7931 493-200
Consistently high performance
Constant backlash throughout the service life of the gearbox ensures a consistently high performance.
Highest quality standards guarantee a long service life and extend maintenance intervals.
High speeds increase machine output.
The right-angle design allows for shorter machine concepts due to being short in the axial plane.
Extremely reliable gearboxes prevent cost-intensive machine breakdowns.
The hollow shaft grants maximum flexibility in the machine design.
Hollow shaft
For feeding through media or establishing a connection to the application
Output
Variable output connection, also rearward
Taper roller bearings
For absorbing axial and radial forces
Metal bellows coupling at the input
Length compensation to protect the motor bearing
Hypoid gearing
High-quality hypoid gearing for a higher torque and smoother operation
WITTENSTEIN alpha in all axes
WITTENSTEIN alpha develops complete, single-supplier solutions for any driving axis. They can be used in virtually any application – from high-precision axes in manufacturing systems to packaging machinery where maximum productivity is required.
The name WITTENSTEIN alpha is a byword for premium quality and reliability, high precision and synchronization accuracy, highest power density, a long lifetime and very simple motor mounting.