NVH worm gearbox
Economical servo worm
Low backlash servo worm gearbox with hollow shaft. The NVH of the V-Drive Value-family impresses with its high power density and medium torsional backlash. It is especially suitable for economical applications in continuous operation.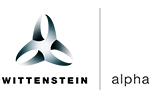 WITTENSTEIN alpha GmbH
Walter-Wittenstein-Str. 1
97999 Igersheim (Germany)
+49 7931 493-0
+49 7931 493-200
The NVH worm gearbox convinces with a high performance in economical standard applications in cyclic and continuous operation.
The stick-slip effect is not an issue in applications with the NVH thanks to the perfected hollow-flank toothing.
In addition to the hollow shaft, the worm gearboxes are also available in a corrosion-resistant design.

Radial shaft seal
Very long service life
Optimized for continuous operation

Hollow-flank toothing
Medium torsional backlash accuracy over the entire service life
High efficiency
High power density

Input bearing
Bearing package to absorb axial and radial forces
Very well suited to high input speeds

Output bearing
High overload capacity to absorb axial and radial forces
Metal bellows coupling
Completely backlash free
Lifetime durable and maintenance free
Easy assembly
Protects the motor through thermal linear expansion compensation
WITTENSTEIN alpha in all axes
WITTENSTEIN alpha develops complete, single-supplier solutions for any driving axis. They can be used in virtually any application – from high-precision axes in manufacturing systems to packaging machinery where maximum productivity is required.
The name WITTENSTEIN alpha is a byword for premium quality and reliability, high precision and synchronization accuracy, highest power density, a long lifetime and very simple motor mounting.