TPC+ bevel gearboxes

High performance with low ratios

Low backlash right-angle gearboxes with TP+ compatible output flange. With it's short design in the axial plane the gearbox series TPC+ is used in compact machines. They especially convince in dynamic applications demanding high precision, torque and efficiency.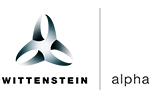 WITTENSTEIN alpha GmbH
Walter-Wittenstein-Str. 1
97999 Igersheim (Germany)
+49 7931 493-0
+49 7931 493-200
Consistently high performance
Constant backlash throughout the service life of the gearbox ensures a consistently high performance.
Highest quality standards guarantee a long service life and extend maintenance intervals.
High speeds increase machine output.
The right-angle design allows for shorter machine concepts due to being short in the axial plane.
Minimal backlash and extreme rigidity ensure maximum positioning accuracy at the tool center point.
Extremely reliable gearboxes prevent cost-intensive machine breakdowns.

Output compatible with SP+ series
Output compatible with SP+ series
WITTENSTEIN alpha in all axes
WITTENSTEIN alpha develops complete, single-supplier solutions for any driving axis. They can be used in virtually any application – from high-precision axes in manufacturing systems to packaging machinery where maximum productivity is required.
The name WITTENSTEIN alpha is a byword for premium quality and reliability, high precision and synchronization accuracy, highest power density, a long lifetime and very simple motor mounting.