XPK+ hypoid gearboxes
Power and precision in a compact design
The Premium planetary gearbox are now available in a right-angle version XPK+ with hypoid gearing. The axis offset of hypoid gearboxes allows both higher ratios in one section (ratio i = 3 – 10) as well as higher torques compared to bevel gearboxes.The high torque density allows for an extremely compact, space-saving design. The mesh frequency and high torsional rigidity of the gearbox are also extremely impressive since they ensure a higher degree of positioning accuracy and extremely smooth operation.
Please contact your respective sales engineer or contact us via mail info@wittenstein-alpha.com for further information or CAD data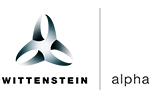 WITTENSTEIN alpha GmbH
Walter-Wittenstein-Str. 1
97999 Igersheim (Germany)
+49 7931 493-0
+49 7931 493-200
Excellent torque density and rigidity reduce your cycle duration.
Highest quality standards guarantee a long service life and extend maintenance intervals.
The right-angle gearbox with very high breakdown torque capacity allows new machine concepts, for example a bearingless design.
The right-angle design allows for shorter machine concepts due to being short in the axial plane.
Extremely reliable gearboxes prevent cost-intensive machine breakdowns.
Constant low backlash over the entire service life of the gearbox coupled with high torsional rigidity enables the highest levels of positioning accuracy.

Reinforced bearings
For absorbing high axial and radial forces
Output
Special XP+ output for higher power transmission
Rearward output
Variable output connection, also rearward
Hypoid gearing
High-quality hypoid gearing for a higher torque and smoother operation
Metal bellows coupling at the input
Length compensation to protect the motor bearing
The XPK+ compared to the industry standard
XPK+ – Your Xtra productivity, precision and space saving
Are you looking for a gearbox far exceeding industry standards in terms of torque, breakdown torque capacity and torsional rigidity?
The XPK+ in the alpha Premium Line offers numerous technical benefits that improve performance several times over, for example with very short cycle times and optimal controllability of your drive axis. This compact "powerhouse" also gives you the option of reducing the installation space still further.
WITTENSTEIN alpha in all axes
WITTENSTEIN alpha develops complete, single-supplier solutions for any driving axis. They can be used in virtually any application – from high-precision axes in manufacturing systems to packaging machinery where maximum productivity is required.
The name WITTENSTEIN alpha is a byword for premium quality and reliability, high precision and synchronization accuracy, highest power density, a long lifetime and very simple motor mounting.